Welcome to Mad River Mountain's Ski Patrol Website!
If you are interested in finding out more about becoming a Ski Patroller, check here: Becoming A Member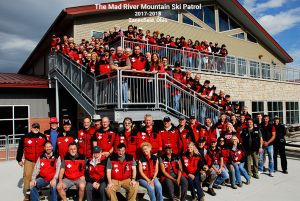 You Tube Videos!  The Mad River Ski Patrol has a series of How To videos now posted.  Be sure to hit the subscribe button so that you will know when more are added.  Check here for the current list: How To Videos
Patrollers Stepping It Up – Congratulations to Sallie Evans for successfully achieving her PSIA Level I certification!
SHIFT STATUS – You can check here for your status on hours requirement for the year, or find later under Members / Schedule.  Hours status
CALENDAR Keep an eye on our calendar.  We have lots of events and development activities on the horizon.  What are you doing for self-improvement this year?  Consider a Ski Enhancement, Toboggan Enhancement, or OEC development opportunity!  Nothing to lose and so many possibilities to gain!!
Radios – If thinking about purchasing a new personal radio for use while patrolling, check here first.
MRM Organization Chart  Many changes this year in those agreeing to lead our volunteer organization in the various functions that it takes to run the show.
Welcome Visitors!
Our 100+ volunteer members provide service, safety, and emergency care to snowsports enthusiasts that visit the Mad River Mountain Ski Resort.Mad River Mountain Ski Resort boasts a 300 ft vertical covering 120 acres of pristine snow generated by Mother Nature, or Mad Rivers 100+ snow machines.Please feel free to check out our site and information about us . Thanks for stopping by.