Welcome to Mad River Mountain's Ski Patrol Website!

Click her to find out more about becoming a Ski Patroller, Becoming A Member
New OEC Technicians!
A Big Congratulations and job well done to our newest candidates, with eight passing their OEC Practical test Aug 12 to become OEC Technicians.  Say hi and welcome them aboard – they will be helping out at the upcoming refresher.
Fall Refresher
Our OEC Refresher will be here before you know it!  You should have received your Refresher study guide in the mail, but if not you can download from nsp.org.  Click on the calendar refresher dates for more information.
Savage Race Success
Thanks to all who helped out at this year's Savage Race!  Hard work, but good fun and a valuable service to those in need of first aid and food!  Plus we had the NSP Subaru on site, so maybe we also got noticed a bit on the recruiting side!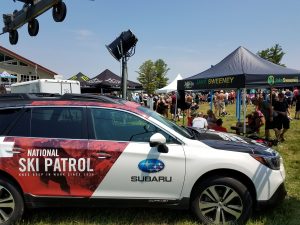 Great food and socializing with fellow patrollers and ski school partners provided a wonderful wrap up to another successful season at MRM. Congratulations to those recognized at our year end banquet for service years and other achievements!
AWARDS:
Sage Award  – David Faulkner
Hill Leader of the year –  Dan Fancey
Shift of the year – Tuesday Night  (Team: T.  Southall, C .Watson, McAninch, Docktor, Nicol, Ogle, Evans)
Candidate of the Year – Matthew  Ogle
Bravo Award – Twyla Southall
OEC Instructor of the year – Cindy Watson
Patroller of the year – Sallie Evans
Instructor of the year Toboggan – Tom Tavenner
Instructor of the year Snow sports – Chet Stanley
Patrol Directors Award – Nick Tippett
Patrol Directors Award – Doug Sanderson
Service 20yrs and greater –  20 Yrs: Tim Burkholder, Robert Ritzi; 35 Yrs: John Norris; 40 Yrs: Fred Bradshaw
You Tube Videos!  The Mad River Ski Patrol has a series of How To videos now posted.  Be sure to hit the subscribe button so that you will know when more are added.  Check here for the current list: How To Videos
SHIFT STATUS – Year end status was posted via email from Scott.  If you were not in the GREEN zone, be sure to follow-up with Scott for a plan of action to get back in good standing for next season!
CALENDAR Keep an eye on our calendar.  We have lots of events and development activities on the horizon.  What are you doing for self-improvement this year?  Consider a Ski Enhancement, Toboggan Enhancement, or OEC development opportunity!  Nothing to lose and so many possibilities to gain!!
Radios – If thinking about purchasing a new personal radio for use while patrolling, check here first.
MRM Organization Chart  See who leads our volunteer organization in the various functions that it takes to run the show.
Welcome Visitors!
Our 100+ volunteer members provide service, safety, and emergency care to snowsports enthusiasts that visit the Mad River Mountain Ski Resort.Mad River Mountain Ski Resort boasts a 300 ft vertical covering 120 acres of pristine snow generated by Mother Nature, or Mad Rivers 100+ snow machines.Please feel free to check out our site and information about us . Thanks for stopping by.