Welcome to Mad River Mountain's Ski Patrol Website!
Interested in Ski Patrol?  Start Here >> Becoming A Member or check out our Mountain Host Program.
It will soon be time for this year's Wagner Subaru Outdoor Experience.  Check the events on the calendar and sign up to volunteer now!
Our annual MRM Fall Fest – which incorporates our Ski Swap –  is also in October, earlier than past years and ramping up a bit, combining with a variety of MRM Activities.  We do need lots of patrollers, so please pick your favorite activity and sign up today!  SIGN UP
OEC Refresher Prep – You should all be receiving emails with course numbers to sign up for the OEC Online portion of the refresher, and the workbooks were mailed recently as well as being available on the nsp.org website.  Start your reading and online work now to avoid the crunch later!  Instructors – please make sure you have registered and also responded on your schedule for both refresher dates.  Need more info?  Check out the emails and/or review details under OEC.  Instructors can also check here OEC Inst
AWARDS!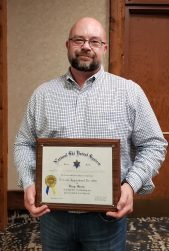 A Big CONGRATULATIONS to Troy Green, who received his national appointment #12093 this week at the Ohio Region Awards Banquet.  This is the highest honor that is granted in the National Ski Patrol.  "A patroller with a National Appointment or Leadership Commendation Appointment is an individual who has demonstrated leadership, good character, diplomacy, a positive attitude, good judgment, unusual qualities of patrolling ability, a genuine desire to serve the skiing public, and extraordinary service to the National Ski Patrol." 
Also recognized at the Region Banquet was Scott Griffith, for outstanding administrative services in the Ohio Region, presented with the Wally James Award.
Have you checked out our new Recruiting Video?  Excellent coordination effort by Troy Green to produce this compelling video on reasons to join our NSP family.  Ski Patrol Video 2019 – It's More Than A Job, It's Family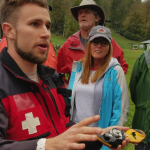 Congrats to Brett Foster – featured recently on the Wright State Newsroom publication for his work with the National Ski Patrol via Mad River Mountain.  Way to go! Check out the article here:  Medical Student Volunteer
Celebration!  We added a great wrap to the year with a banquet teamed up with our friends from MRM Ski School.  Recognition was given to patrollers hitting key years of service in addition to the following awards:
Candidate of the Year: Boris Terebuh;  Patroller of the Year: Troy Green;  Patrol Directors Award: Dan Fancy;  Sage Award: David C Faulkner;
Shift of the Year: Sunday B (Chuck M hill lead);  Hill Leader of the Year: Tim Burkholder;  Bravo Award: Cindy Watson;  Snowsports Instructor of the Year: Shawn Roush;  OEC Instructor of the Year: Kristen McKenna;  Toboggan Instructor of the Year: Chris Raudabaugh;  Young Adult Patroller of the Year: Tyler Green
Spring Fling
What a great day for fun at MRM Mar 9th!  We started the day with a recognition breakfast for our patrol directors (pictured at right) and Alumni Day.  Then it was off to the races – cardboard that is – with many of our patrollers participating and two great entries by the patrol, followed by Pond Skimming.  More pictures in our Photo Gallery.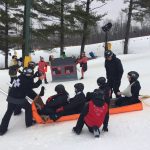 Training Fun on the Hill
We had fun friendly End of Season Games with Candidates and available Instructors (even had 1 potential candidate join us). Racing down hill with toboggans and other crazy tasks that Chet thought up… Team Vickroy was crowned the Winner but due to rampant Cheating on All Sides, everyone present received Participation Prizes :-)
L-R:Jim Vickroy, Mack Logan, Whitney Hohlbein, Boris Terebuh, Gwen Reichert, Tom Reichert, Twyla Southall, Ken Okoye, Dugan McAdams, Mike Chizever, Sallie Evans, Chet Stanley.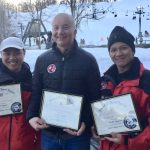 Congratulations! Congrats to Shawn Roush for passing his AASI Level I!  Way to go and another enhancement to our training team.
More success to share!  Congrats are due to Wally Taylor and the father/son team of Justin Tugaoen and Jonah Tugaoen for completing their Senior Alpine Patroller status with the success of their Sr. Toboggan testing. Way to go!
TRAIN the Trainers!  Eight members of our training team had the opportunity to do an afternoon of training with Heidi Ettlinger, of the PSIA Alpine staff (D Team).  Heidi inspired and peaked our interest with new ideas as always!!
We are pleased to welcome the initial class of Mountain Hosts, who just passed their Outdoor First Care test and will become active participants in our patrolling. Pictured left to right – Sylvia Woodruff (YAP), Mark Woodruff, Saundra Woodruff, Eric Trent, Jason Paine, Shawn Paine (YAP), Joe Stefko, and Dana Parsons.
Also welcome our three new alpine patrollers aka "Sled Dogs" that passed their final testing Jan 27th!  Please extend your congrats to Julia Stanley, Nick Marco, and Tyler Green (Pictured L-R)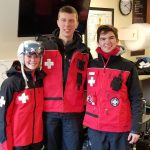 You Tube Videos 
MRM Ski Patrol now has a great bank of You Tube Videos to provide training and refresher how to's on a variety of procedures.  Check out the latest on How to use the carrier to transport toboggans back uphill and Subscribe to our channel! See full list of videos here: You Tube Training Videos.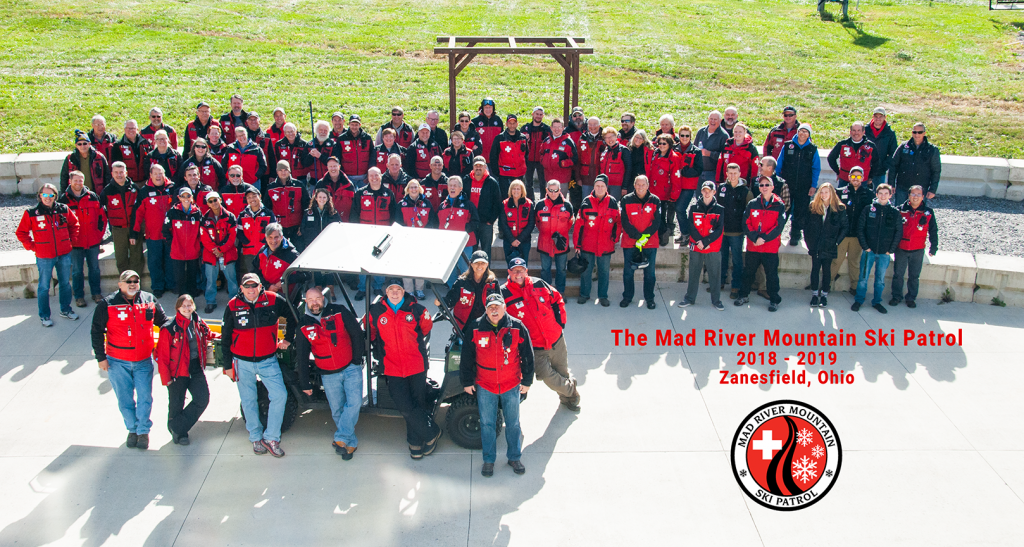 ICS 100-You may have seen the notes about this new requirement for all patrollers.  More information about the program and how to complete the course can be found under OEC Programs – ISC100
Radios – If thinking about purchasing a new personal radio for use while patrolling, check here first.
Awards
At the fall division meeting, we had two Mad River patrollers among those recognized for outstanding achievement within the Central Division.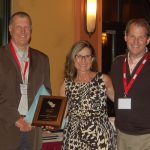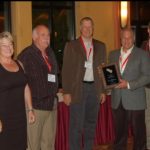 Troy Southwick: Division Directors Award, for implementing the toboggan instructor movement analysis program; Cheryl Raudabaugh: Central Division Outstanding Supervisor, for work in the Skills Development Programs.  The Rusty Parka newsletter shows lots more awards given to hardworking patrollers across the division, including BM/BW/AV as the National Outstanding large alpine patrol, awarded a Gold Unit Citation.
Patroller Stories
We all have stories that are indelibly etched in our memories.  Please consider sharing yours with the patrol.  See other stories here and email your personal story to Cheryl to contribute.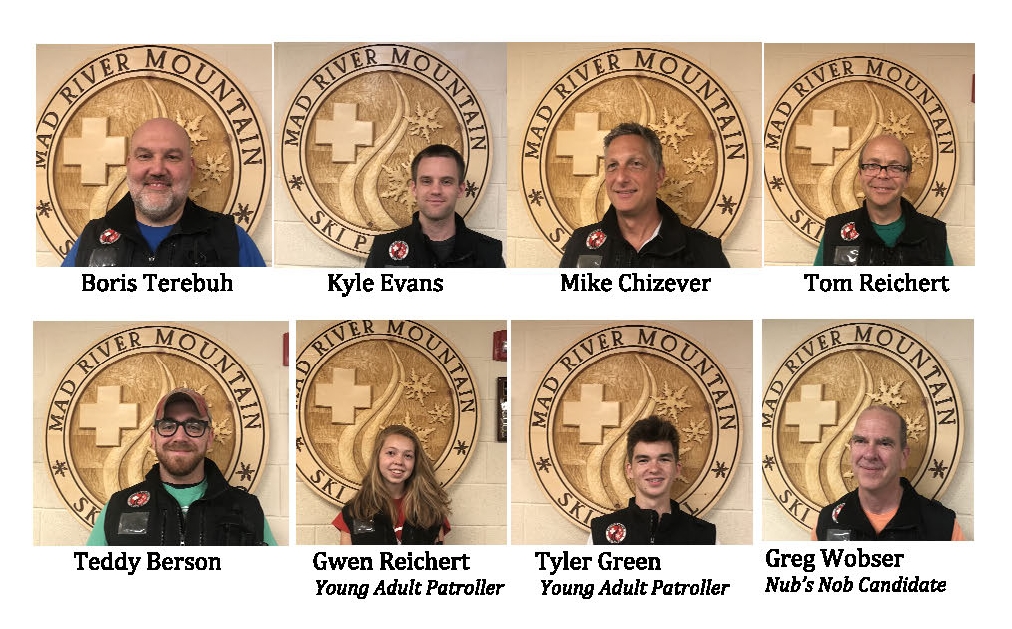 New OEC Technicians!
A Big Congratulations and job well done to our newest candidates, with eight passing their OEC Practical test Aug 12 to become OEC Technicians.  Welcome them aboard.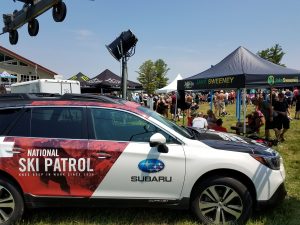 CALENDAR Keep an eye on our calendar.  We have lots of events and development activities on the horizon.  What are you doing for self-improvement this year?  Become part of the Senior Programs, consider a Ski Enhancement, Toboggan Enhancement, or OEC development opportunity!  Nothing to lose and so many possibilities to gain!!
MRM Organization Chart  See who leads our volunteer organization in the various functions that it takes to run the show.
Welcome Visitors!
Our 100+ volunteer members provide service, safety, and emergency care to snowsports enthusiasts that visit the Mad River Mountain Ski Resort.Mad River Mountain Ski Resort boasts a 300 ft vertical covering 120 acres of pristine snow generated by Mother Nature, or Mad Rivers 100+ snow machines.Please feel free to check out our site and information about us . Thanks for stopping by.