Welcome to our patrolling website! 
Patrol News – are you in the know?  Reminder to check out latest posts on our website.  You can find Patrol News Posts on the right column under the calendar on the home page, or go to Members > Patrol News for a brief list from the menu.
MRM Patrol Picnic and Awards – great fun was had by all and we recognized superior efforts by individual patrollers – PICNIC FUN    
Photos – remember to check out some of the fun pictures we have collected along the way at patrol events, and be sure to contribute when you snap a few good ones of your own!  PHOTOS
Celebrations! The Ohio Region Spring Awards Banquet was held April 30.  Congratulations to the award recipients!! See more photos and information from the event including fun games AWARDS
OEC for new Candidates:  OEC Training for Spring 2022 has begun!  Check here for the Syllabus or under Member OEC Programs for more information!  There are opportunities for every patroller to help at some point throughout the class.
Mark Your Calendars!  We have some great celebrations coming up and the calendar has already been updated through fall for local activities, so check UPCOMING EVENTS now.
Safety Protocols: Vail policies are being updated for the next year, but as needed you can also review general patrol safety policies here: Patrol Safety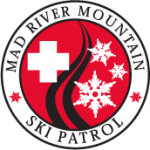 Click on the MRM Logo  for member updates/blog and check the Events calendar for information on upcoming activities.  
Visitors – If you would like to find out more about patrolling please select options under More Info on the main menu for links to materials from the history of patrol to how to sign up.  If you are ready to take a further step, please click below for joining patrol or our Mountain Host Program.