Welcome to our patrolling website!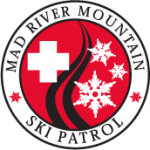 Click here on the MRM Logo for Patrol News with member updates/blog and remember to check the Events calendar for information on upcoming activities.  You can also find Patrol News Posts on the right column under the calendar on the home page, or go to Members > Patrol News.
THANK YOU! – To all patrollers and their supportive families!  We had a great season in spite of some weather challenges.  Mark your calendars for the patrol picnic and other summer events and stay tuned for updates on the website and Homebase.  
Photos – remember to check out some of the fun pictures we have collected along the way at patrol events, and be sure to contribute when you snap a few good ones of your own!  PHOTOS
Celebrations! We have had so many successes this season with certifications for PSIA/AASI, OEC, and Alpine ski/riders!  Be sure to check out the posts and photos and congratulate our patrollers on all their hard work for these achievements!
Mark Your Calendars!  We have busy times coming and our website calendar is the best way to keep in sync with local activities, so check UPCOMING EVENTS now.  Individual events will have more info and often links to any necessary materials.
Visitors – If you would like to find out more about patrolling please select options under More Info on the main menu for links to materials from the history of patrol to how to sign up.  If you are ready to take a further step, please click below for joining patrol or our Mountain Host Program.